Sale price
$3995
Regular price
$39.95
Unit price
per
Sale Save $0.00
Sold out
Rose-Hip Vital® Canine is a scientifically and clinically tested natural anti-inflammatory, powerful antioxidant and rich source of natural vitamin C. Made from pure and natural Rosehips manufactured with patented processes, it's a plant-based anti-inflammatory and immune system support for your dog's joint health and general wellbeing.
Rose-Hip Vital® Canine is scientifically proven to reduce inflammation, protect cartilage, improve general health and improve performance.
Rose-Hip Vital® Canine is used for:
Joint pain and joint mobility
Prevention of joint problems
Osteoarthritis / degenerative joint disease
Cartilage protection
Immune system support & general wellbeing
Recovery after exercise, injury or surgery
Coat quality
Much more than just a joint supplement
Unlike other complimentary therapies for joint health, Rose-Hip Vital® Canine is much more than just a joint supplement. It's anti-inflammatory properties assist with systemic inflammation which help to reduce swelling, inflammation and pain associated with a wide variety of conditions.

The rich natural vitamin C and powerful antioxidant combination provide significant immune system support which helps to discourage the attack on joints, repair damaged tissue and improve general health and wellbeing. Research on humans also indicates Rose-Hip Vital® helps to improve kidney and cardiovascular function while helping to lower blood sugar levels.
100% Plant-based
Unlike other joint supplements, Rose-Hip Vital® Canine does not contain any animal ingredients (including shellfish), yeast, gluten, wheat, dairy, lactose or genetically modified ingredients. Rose-Hip Vital® Canine contains 100% patented Rosehip powder. Nothing else is added.

Safe anti-inflammatory
Research shows Rose-Hip Vital® doesn't have the potential side-effects of non steroidal anti-inflammatory medication and is suitable when there is increased risk from the gastrointestinal or cardiovascular side effects of NSAIDs. Rose-Hip Vital® Canine is well-tolerated and palatable. There are no known contraindications (it can be taken with any other medication or supplement) or negative side-effects.
Cartilage protection
Scientific research shows Rose-Hip Vital® powder protects cartilage. This means it helps to delay the onset of arthritic changes or slow down further cartilage degeneration if it already exists.
GOPO® – A Vital Difference
Thanks to patented extraction and drying processes, Rose-Hip Vital® Canine contains the active compound GOPO® (glycoside of mono and diglycerol).
Some white blood cells contain granulocytes which enable them to 'clean' an inflamed joint by destroying the bacteria in it. Too many of these white blood cells wear down tissue cartilage. In large numbers they can also produce chemical enzymes and toxic free-radicals which cause even more tissue damage. Accumulation of white blood cells combined with the release of chemical substances causes joint pain and inflammation. The more inflamed a joint becomes, the more the white blood cells are attracted to it – a painful cycle.
GOPO® discourages large numbers of white blood cells from accumulating in the joint, thereby breaking the cycle of joint inflammation and alleviating pain.
Dosage
| | | |
| --- | --- | --- |
| Body Weight (kg) | Loading Daily Dose (3 weeks) | Maintenance Daily Dose |
| Up to 15 kg | 2 scoops | 1 scoop |
| 15 - 30 kg | 4 scoops | 2 scoops |
| Over 30 kg | 6 scoops | 3 scoops |
For dogs weighing less than 7.5kg
Feeding the recommended dose for dogs weighing up to 15kg may not be necessary.Logic suggests you can halve the dose for dogs up to 7.5kg and expect the same results. We recommend administering the full loading dose if possible until results are noticed and then slowly reduce the dose until a balance between cost and effectiveness is achieved.
NOTE: The more Rose-Hip Vital® Canine your dog eats, the more effective it will be. The appropriate dose might also depend on whether Rose-Hip Vital® Canine is being used to reduce joint pain/inflammation or for prevention of joint issues/wellbeing.
Tips for fussy eaters
If you already know your dog is a fussy eater, we suggest you gradually introduce Rose-Hip Vital Canine. Start with a small pinch of powder and slowly increase to the recommended dose over time. Other tips to get your fussy dog to eat Rose-Hip Vital Canine include mixing it with wet food, mince, sardines, tuna, yoghurt, cottage cheese, milk, raw egg, butter or stock.
For dogs with a history of stomach sensitivity
Introduce Rose-Hip Vital Canine very slowly. Start with a small pinch of powder and gradually increase once tolerance has been established.
Dosage
2.5g level scoop included. Mix with food once or twice daily. Do not mix with hot food or hot liquid.
Results are typically noticed after three weeks.
Disclaimer

Always read the label and follow the directions for use. Use only as directed.

Images may differ in appearance from the actual product.

All orders are subject to availability. Whilst we endeavour to keep our stock levels accurate, some products may not be immediately available. If an item is purchased that is not available in a reasonable time frame, we will contact you to inform you of excess delays or to discuss alternative product options. 
Share
View full details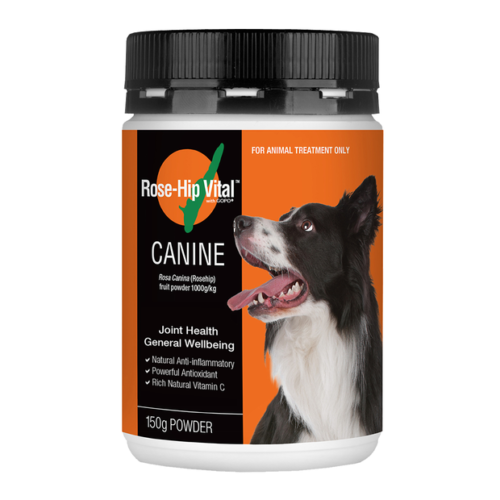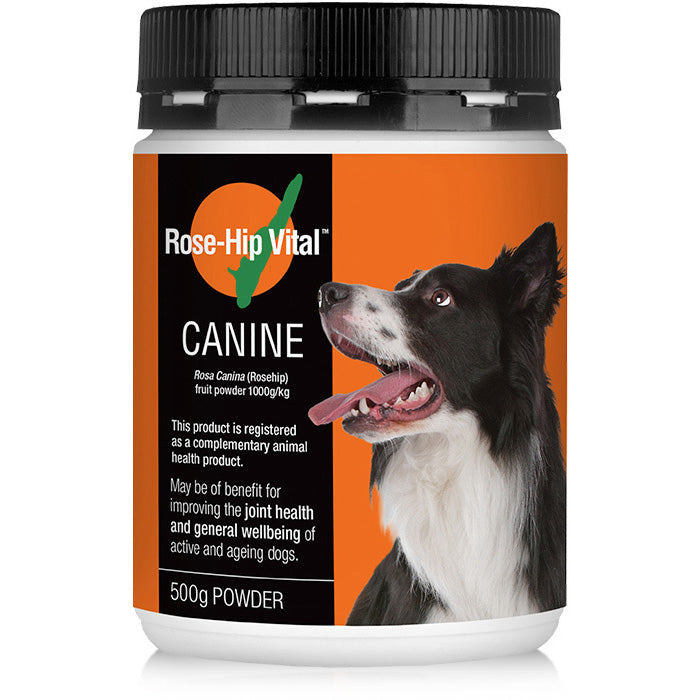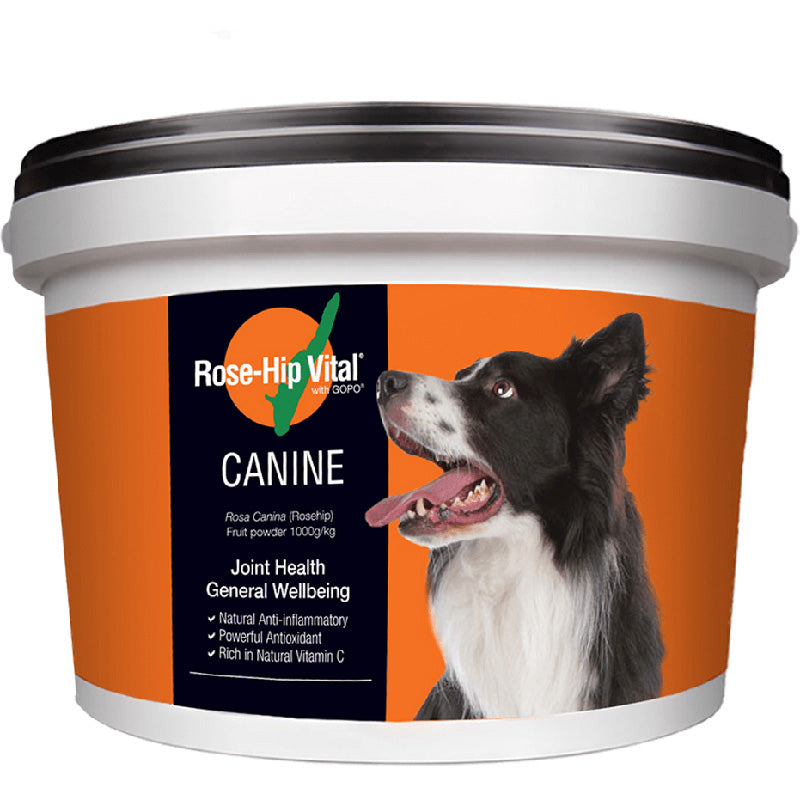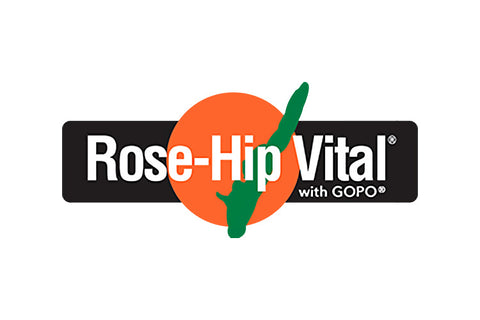 Rose-Hip Vital Denmark
Rose-Hip Vital, is an Australian owned family business, committed to supporting the joint health and general wellbeing of people, dogs and horses by offering a proven 100% natural alternative which helps improve quality of life.
Shop more from Rose-Hip Vital Denmark