Sale price
$4950
Regular price
$53.95
Unit price
per
Sale Save $4.45
Sold out
Clear Brain™ is based on an extract combination as well as vitamins and minerals, which increase cognitive performance and maintain blood circulation and flow to the peripheral areas of the body (legs, hands and feet). Riboflavin, niacin, vitamin B6 and B12 reduce the feeling of weakness and contribute to the normal function of the nervous system.
RECOMMENDED TO
Most people are a bit more forgetful with age. For many it happens after the age of 50 years.
When you are stressed and anxious your brain shut down for rational thinking.
Up to and during the exam, it is important to be able to focus and concentrate for best results.
WALNUT (Juglans regia L.)
Clear Brain™ combines walnut extract with ginkgo, green tea and a complex of B vitamins. Ginkgo Biloba supports cognitive function, memory and peripheral circulation.
PINE BARK (Pinus pinaster Aiton)
Pinus pinaster, better known as French maritime pine, originates in the countries around the Mediterranean Sea. Like in the Northern European countries, where pine bark was often added to flour for bread baking, also the southern countries used the same procedure. Today we know that this bark contains naturally high contents of the desired proanthocyanidins.
POMEGRANATE (Punica granatum L.)
The pomegranate has its origins in the western Himalayas. The pomegranate contains a number of natural substances including ellagic acid. Pomegranates for this tablet is extracted by removing the dummy cellulose.
RECOMMENDED USE
Adults: Take 2 tablets a day with a glass of water at breakfast.
Cautions: Consult a health care practitioner prior to use if you are taking any medications.
Warnings: Keep out of reach of children. Not recommended to use by pregnant and lactating women. Do not use if the blister (inner foil) is broken or tampered with. Contains nuts.
Nutritional Information
EACH TABLET CONTAINS
 
Punica granatum (Pomegranate) Dry peel extract
75 mg
  equivalent to dry peel
1125 mg
Camellia sinensis (green tea) Dry leaf extract
75 mg
  equivalent to dry leaf
2250 mg
Pinus pinaster (pine bark) Dry bark extract
40 mg
  equivalent to dry bark
320 mg
Juglans regia (walnut) Dry nut extract
25 mg
  equivalent to dry nut
125 mg
Ginkgo biloba (ginkgo biloba) Dry leaf extract
60 mg
  equivalent to dry leaf
2400 mg
Piper nigrum (black pepper) Dry fruit extract
3 mg
  equivalent to dry fruit
105 mg
Vitamin B1
0.66 mg
  Equivalent to thiamine mononitrate
0.99 mg
Vitamin B2
0.85 mg
  Equivalent to riboflavin
0.9 mg
Vitamin B3 (nicotinamide)
4.5 mg
Vitamin B5
3.5 mg
  Equivalent to calcium D-pantothenate
3.8 mg
Vitamin B6
1.06 mg
  Equivalent to pyridoxine hydrochloride
1.59 mg
Vitamin B9 (folic acid)
0.1 mg
Vitamin B12
1.35 mcg
  Equivalent to cyanocobalamin
1.35 mg
INGREDIENTS: Punica granatum L. (Pomegranate extract), Camellia sinensis L. (Greentea extract), Ginkgo Biloba L. (Ginkgo Biloba extract), Pinus pinaster (French maritime pine bark extract), Juglans regia (walnut extract), Niacinamide, Calcium D-pan- tothenate, Piper nigrum L. (black pepper), pyridoxi- ne hydrochloride, cyanocobalamin, thiamine mononi- trate, riboflavin, folic acid
Also contains: microcrystalline cellulose, soluble potato starch, car- mellose sodium, hypromellose, magnesium stearate, silicium- dioxide, glycerol.
Disclaimer

Always read the label and follow the directions for use. Use only as directed.

Images may differ in appearance from the actual product.

All orders are subject to availability. Whilst we endeavour to keep our stock levels accurate, some products may not be immediately available. If an item is purchased that is not available in a reasonable time frame, we will contact you to inform you of excess delays or to discuss alternative product options. 
Share
View full details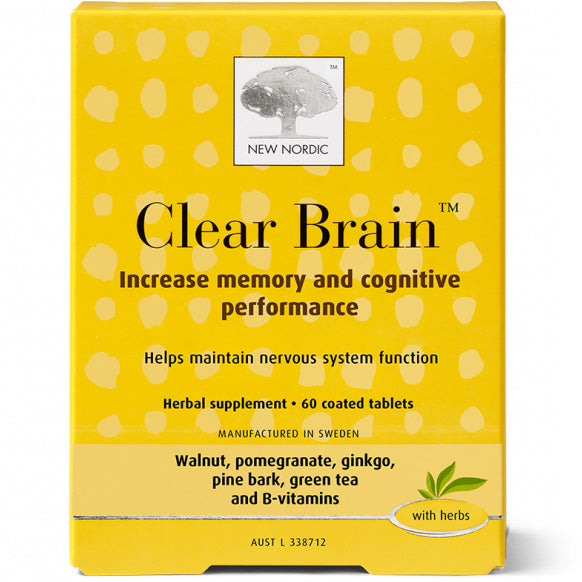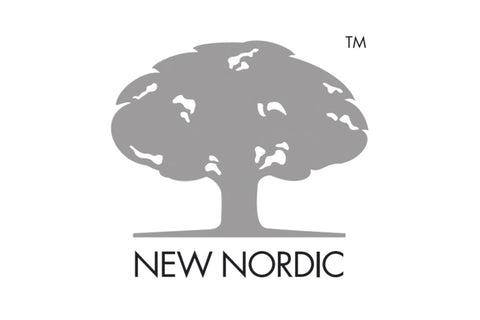 New Nordic
New Nordic is a Swedish-based company with a unique knowhow in medicinal plants. New Nordic develops and markets effective herbal dietary supplements, as well as cosmetics, to satisfy specific health and beauty needs. It markets these under the New Nordic brand to an increasing number of people all over the world.
Shop more from New Nordic