Sale price
$4995
Regular price
Unit price
per
Sale Save $-49.95
Sold out
750MG Creatine HCI
Creatine is found naturally in the muscle cells and enhances their ability to regenerate adenosine triphosphate (ATP) to help you recover faster between sets.
750MG Free-Acid Creatine
This is the purest form of creatine on the market that will help your muscles produce energy during heavy lifting or HIIT exercise.
DON'T JUST PLAY THE GAME. CHANGE IT.
For more than two decades, we've fueled those with the strength to not just play the game, but to change it. And Cell-Tech® Creactor® expands on this tradition with an incredibly versatile creatine formula designed for maximum results in lean muscle, strength and recovery!
STRENGTH REDEFINED
For those who strive to be the best they can be, MuscleTech® offers an innovative line of performance supplements to meet the demanding needs of serious fitness enthusiasts training to improve their strength, endurance and power — and maintain their competitive edge.
WHY TAKE CELL-TECH® CREACTOR®?
CLINICALLY PROVEN FOR MAXIMUM POTENCY
Specially formulated and science backed, every serving of Cell-Tech® Creactor® delivers the ideal 1:1 ratio of creatine hydrochloride (HCI) plus free-acid creatine, the purest form available.
INCREASE STRENGTH & GAIN MORE MUSCLE
The amount of creatine found in just two super-concentrated scoops of Cell-Tech® Creactor® is scientifically proven to increase muscle strength, size and performance.
HARNESS THE ENERGY OF AMPLIFIED ATP SYNTHESIS
This formula rapidly enhances your muscle cells' ability to regenerate adenosine triphosphate (ATP) – their primary source of anaerobic energy – so you can recover faster between sets.
CLINICALLY PROVEN FOR MAX POTENCY & EFFECTIVENESS
You're looking for nothing more than exactly what you need. Cell-Tech® Creactor® delivers ultra-pure and free-acid creatine — so you can avoid bloating and never have to load or cycle it.
PUSH THE LIMITS WITH MUSCLETECH®
MuscleTech® brings together active nutrition and human potential together for a greater purpose. We fuel those who raise the bar – whether you're an elite athlete, weekend warrior, or just trying to stay healthy — we believe in growing stronger together. From essential nutrition to cutting-edge formulas, we've got your fit. Join us as we redefine what it means to be strong. After all, it's not just about personal bests – it's about a better way for us all.
THE PROVEN & VERSATILE SUPPLEMENT SOLUTION
Whether you're building your own stack or want a creatine-only supplement, we've got you. Cell-Tech® Creactor® is incredibly versatile and plays nice with other proteins, pre-workouts and BCAAs.
GET MORE MUSCLE & STRENGTH
Unlock your potential by building more strength, improving recovery time, or turning up the dial on your workout productivity and results.
EXPERIENCE REAL RESULTS & BETTER PERFORMANCE
With scientifically researched results second to none, Cell-Tech® Creactor® will help you shatter your personal records and plateaus in the gym or on the field.
POWERFUL POTENCY THAT'S GOOD TO GO
No underdosed key ingredients, fillers or sugar in this formula! Every fully disclosed scoop of Cell-Tech® Creactor® provides maximum potency for maximum results.
Nutritional Information
| | |
| --- | --- |
| Serving size: 1 Scoop (2 g) | Average Quantity per Serving |
| Fat, total | 0 g |
| Carbohydrate | 0 g |
| Dietary Fibre | 2 g |
|   - sugars | 0 g |
| Creatine hydrochloride (HCI) | 750 mg |
| Free-acid creatine | 750 mg |
Other ingredients: Xanthan Gum, Citric Acid, Natural Flavor, Calcium Silicate, Silicon Dioxide, Acesulfame-Potassium, Sucralose
Disclaimer

Always read the label and follow the directions for use. Use only as directed.

Images may differ in appearance from the actual product.

All orders are subject to availability. Whilst we endeavour to keep our stock levels accurate, some products may not be immediately available. If an item is purchased that is not available in a reasonable time frame, we will contact you to inform you of excess delays or to discuss alternative product options. 
Share
View full details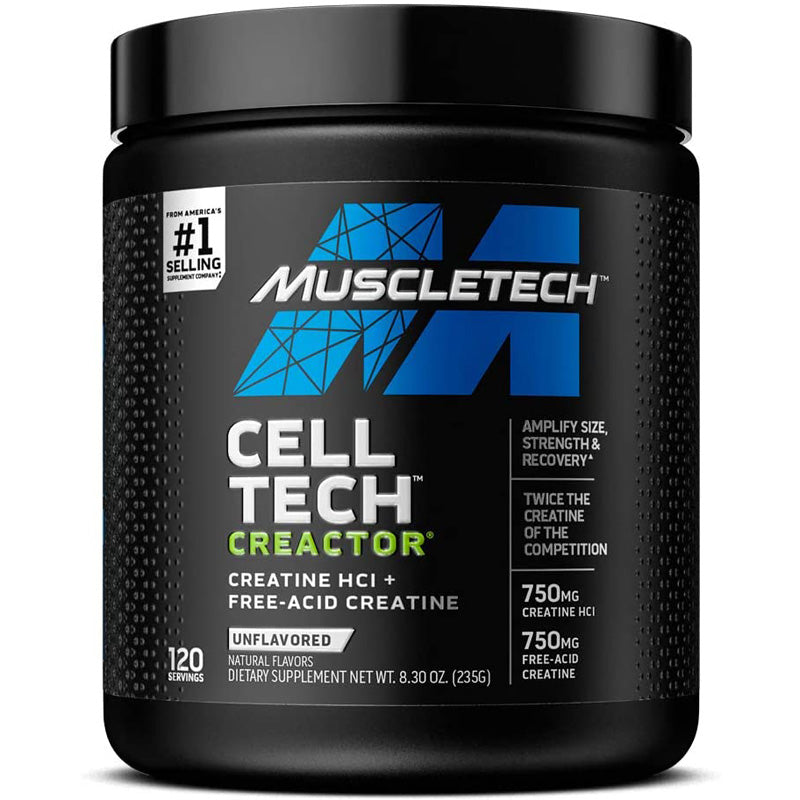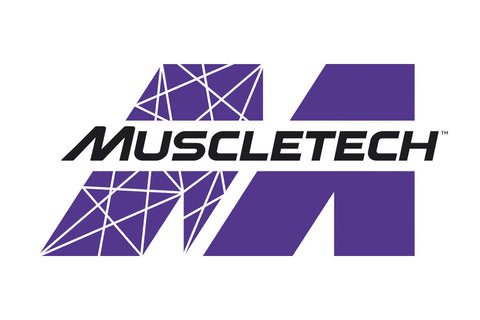 MuscleTech
MuscleTech® was born out of an obsession to redefine the limits of science and human potential. With our commitment to research, development and innovation, we inspire active people, fitness enthusiasts and elite athletes to grow stronger together. For more than two decades, we've fuelled those who raise the bar—not in pursuit of a personal best but a better way for everyone. Like you, we're in it to build more than muscle.
Shop more from MuscleTech