Sale price
$4995
Regular price
$49.95
Unit price
per
Sale Save $0.00
Sold out
HealthWise® L-Ornithine is 100% pure pharmaceutical grade amino acid powder.
L-Ornithine is an amino acid actively involved in producing urea and helps facilitate the removal of nitrogen and ammonia from the body, thereby balancing the body pH.
L-Ornithine is also well known for its role in muscle repair and works in tandem with L-Arginine to achieve this.
DID YOU KNOW?
Ornithine is the amino acid favoured for use in parasite cleansing programs as it detoxifies ammonia and nitrogen through the kidneys by stimulating urea production.
INGREDIENTS
100% pure powder
Pharmaceutical grade
Packed without fillers or flowing agents
> Specific Amino: L-Ornithine
> Specific Weight: L-Ornithine = 2500mg
Note: The above measurements display the amount of milligrams per amino equivalent to a 5ml metric teaspoon. Powders are loosely filled, levelled but not compacted.
HealthWise® Amino Powders are pure pharmaceutical grade powders and are packed by weight not volume, without the use of fillers or flowing agents. Some of the powders are slightly hygroscopic (retain moisture) and this can result in clumping. This can be broken apart with a spoon before taking or dissolved in water.
SERVING SUGGESTION
1-2 grams on an empty stomach or post exercise.
TIPS
Tip for performance: Studies show Ornithine reduces ammonia concentrations in the blood and Ornithine levels remain elevated in the blood for a few hours after ingestion. On this basis, it is suggested pre-workout or between meals for reducing excess ammonia.
Disclaimer

Always read the label and follow the directions for use. Use only as directed.

Images may differ in appearance from the actual product.

All orders are subject to availability. Whilst we endeavour to keep our stock levels accurate, some products may not be immediately available. If an item is purchased that is not available in a reasonable time frame, we will contact you to inform you of excess delays or to discuss alternative product options. 
Share
View full details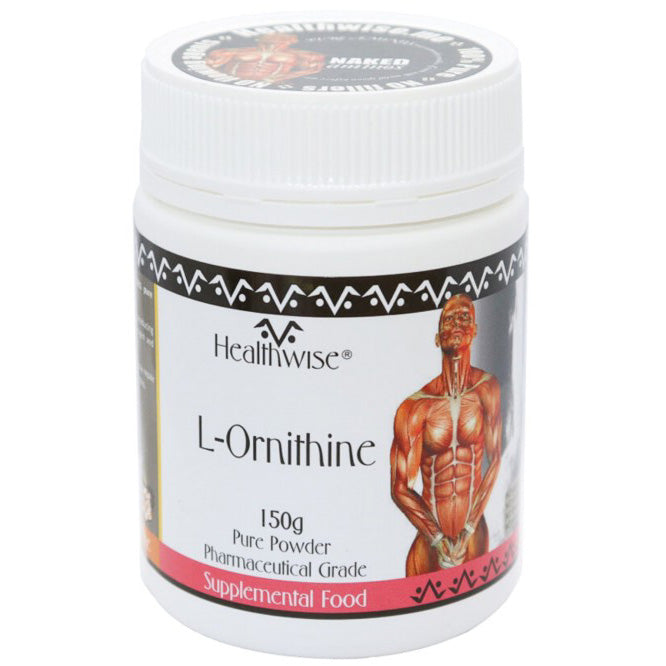 HealthWise
Husband and wife team Zdenko and Carmel Krpan started in the natural health industry in 1998, first as mail and web order retailers, delivering natural health products across Australia and through the world. It wasn't always easy getting the products that people wanted so the new milennium saw us manufacture our own trademarked ranges - OxyMin® and later HealthWise®, then pinQ® and OzyBaby®.
Shop more from HealthWise