Sale price
$2150
Regular price
Unit price
per
Sale Save $-21.50
Sold out
PRACTITIONER PRODUCT - APPROVED CUSTOMERS ONLY
This product is a practitioner-only branded product. To determine if this product is appropriate for you, you will need to complete a health questionnaire detailing your current health status. Only customers who have logged into their customer account and have completed a health questionnaire, that has been subsequently approved, have access to purchase this product.
Zinc Sustain features 30mg of zinc in an amino acid chelate form and cofactors to assist with its absorption. Zinc has many physiological roles and is involved in the major metabolic pathways of the body.
Features
Contains 30mg of zinc in the highly absorbable amino acid chelate form.
Includes magnesium as well as vitamins A, B6 and C which are important cofactors for zinc absorption.
Zinc and vitamins A and C have demonstrated roles in the maintenance of a healthy immune system and healthy skin.
May assist in the management of minor wounds, cuts, scratches and abrasions.
Balances and supports normal male physiology and function.
Nutritional support for the maintenance of healthy sperm and prostate function.
May be beneficial to women in satisfying physiological requirements of the female body.
For the maintenance of healthy eyes.
Provides nutritional support for the maintenance of normal healthy blood glucose levels.
May support healthy neurological function.
People with increased needs for zinc may include adolescents, pregnant and lactating women, and the elderly.
Dose
Adults: Take 1 tablet daily or as directed by your healthcare practitioner.
Warnings
If symptoms persist consult your healthcare practitioner.
The recommended daily amount of vitamin A from all sources is 700mcg retinol equivalents for women and 900mcg retinol equivalents for men.
WARNING - When taken in excess of 3000mcg retinol equivalents, vitamin A can cause birth defects.
If you are pregnant or considering becoming pregnant, do not take vitamin A supplements without consulting your doctor or pharmacist.
Contains zinc which may be dangerous if taken in large amounts or for a long period.
Vitamin supplements should not replace a balanced diet.
Always read label. Use only as directed.
Nutritional Information
Each tablet contains:
 
Zinc (as amino acid chelate)
30mg
Magnesium (as amino acid chelate)
20mg
Retinol acetate
450mcgRE
  equiv. vitamin A
1500IU
Ascorbic acid (vitamin C)
100mg
Pyridoxine hydrochloride
30mg
  equiv. pyridoxine (vitamin B6)
24.75mg
Dietary Influence:
No Added Dairy
No Added Gluten
No Added Shellfish
Disclaimer

Always read the label and follow the directions for use. Use only as directed.

Images may differ in appearance from the actual product.

All orders are subject to availability. Whilst we endeavour to keep our stock levels accurate, some products may not be immediately available. If an item is purchased that is not available in a reasonable time frame, we will contact you to inform you of excess delays or to discuss alternative product options. 
Share
View full details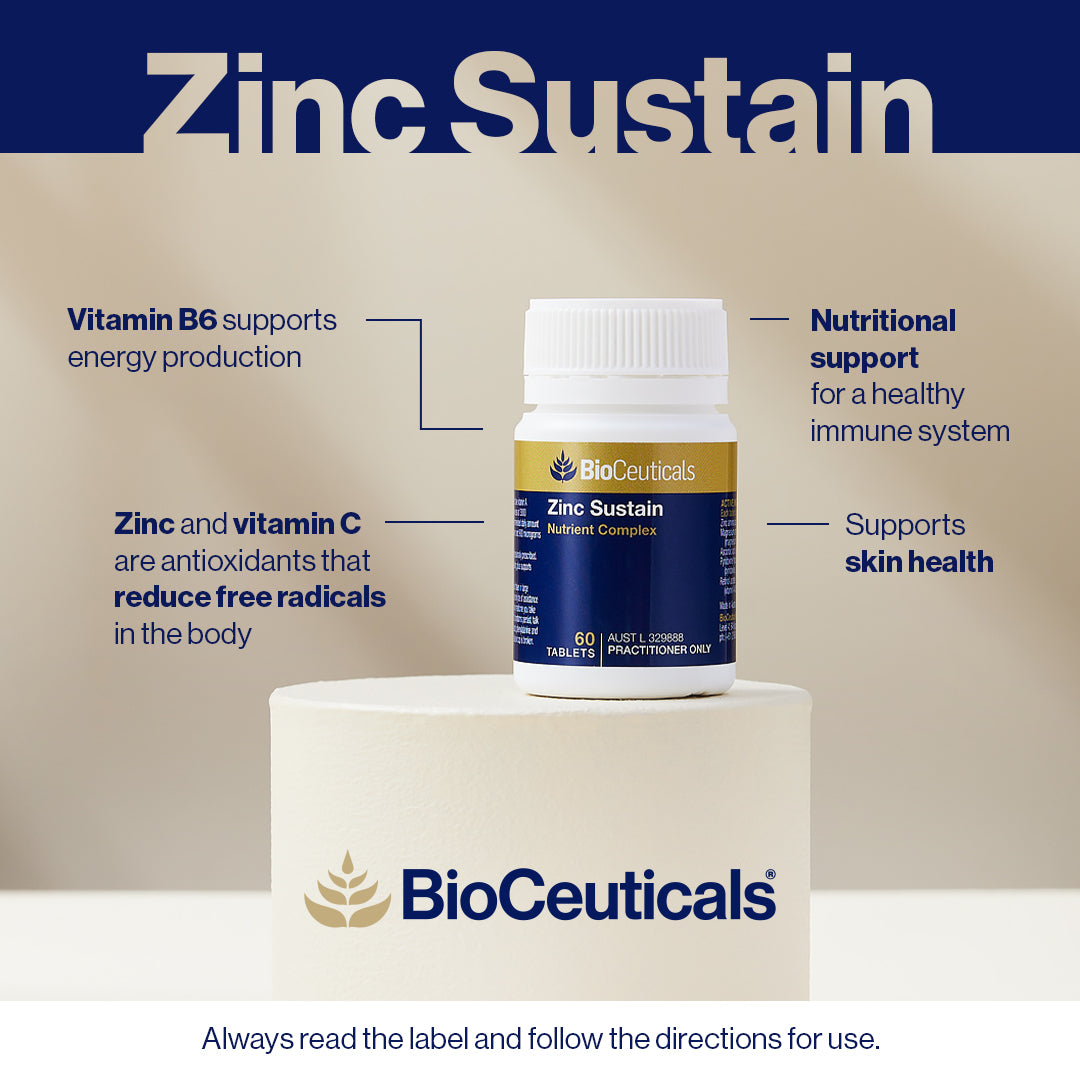 BioCeuticals
Your choice for high-quality, practitioner-only, nutritional and therapeutic supplements from a proudly Australian company. Renowned for manufacturing and delivering high quality integrative medicines to healthcare practitioners, BioCeuticals aims to consistently raise the standards of complementary therapies.
Shop more from BioCeuticals