Sale price
$2150
Regular price
Unit price
per
Sale Save $-21.50
Sold out
PRACTITIONER PRODUCT - APPROVED CUSTOMERS ONLY
This product is a practitioner-only branded product. To determine if this product is appropriate for you, you will need to complete a health questionnaire detailing your current health status. Only customers who have logged into their customer account and have completed a health questionnaire, that has been subsequently approved, have access to purchase this product.
Ultra Muscleze Cream provides magnesium, menthol and wintergreen oil for topical application to muscles.
Features
Ultra Muscleze® Cream contains 300mg of elemental magnesium per recommended dose.
Contains magnesium, wintergreen oil and menthol in a topical cream.
Assists in maintaining magnesium levels in the body.
Magnesium helps to support healthy contraction and relaxation of muscles.
Magnesium is absorbed transdermally.
Wintergreen oil and menthol provide a warming sensation to the skin.
Paraben-free.
Dose
Adults: Apply liberally and massage as required. 15g (approx. 1 metric tablespoon) contains 300mg of elemental magnesium.
Warnings
If symptoms persist, talk to your health professional.
If you have sensitive skin, test this product on a small area of skin before applying it to a large area; if irritation develops, discontinue use; and avoid contact with eyes.
Do not use if pregnant or likely to become pregnant.
Do not use Ultra Muscleze® Cream in children 6 years of age or under.
Application to skin may increase sensitivity to sunlight. Avoid prolonged exposure to the sun.
If irritation develops, discontinue use.
Contains methyl salicylate, sorbates and phenoxyethanol.
Always read the label. Use only as directed.
Nutritional Information
| | |
| --- | --- |
| Each 1g contains: |   |
| Magnesium (as magnesium chloride hexahydrate) | 167mg |
|   equiv. magnesium | 20mg |
| Wintergreen oil | 1mg |
|   equiv. to methyl salicylate | 940mcg |
| Mentha arvensis (field mint) essential oil | 1mg |
|   equiv. to menthol | 700mcg |
Disclaimer

Always read the label and follow the directions for use. Use only as directed.

Images may differ in appearance from the actual product.

All orders are subject to availability. Whilst we endeavour to keep our stock levels accurate, some products may not be immediately available. If an item is purchased that is not available in a reasonable time frame, we will contact you to inform you of excess delays or to discuss alternative product options. 
Share
View full details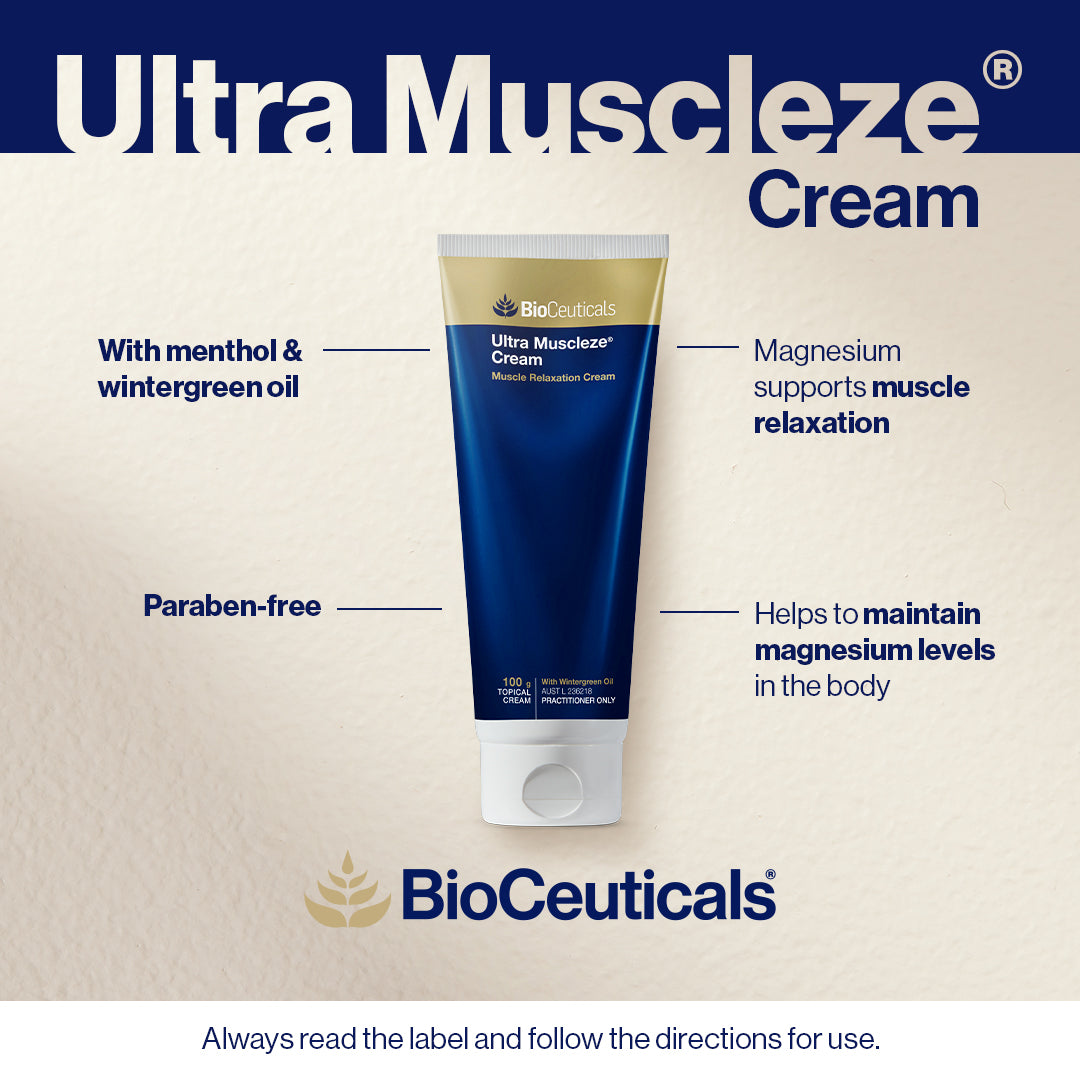 BioCeuticals
Your choice for high-quality, practitioner-only, nutritional and therapeutic supplements from a proudly Australian company. Renowned for manufacturing and delivering high quality integrative medicines to healthcare practitioners, BioCeuticals aims to consistently raise the standards of complementary therapies.
Shop more from BioCeuticals