Sale price
$2395
Regular price
$32.40
Unit price
per
Sale Save $8.45
Sold out
Australian by Nature Fresh Raw Honeycomb Box is 100% natural, collected directly from the beehive and packaged to retain freshness and quality.
Australian by Nature Fresh Raw Honeycomb Box contains several vitamins including ascorbic acid, pantothenic acid, niacin and riboflavin. It also contains chemical elements such as Sodium, Calcium, Potassium, Magnesium, Phosphorus, Selenium, Copper, Iron, Manganese, Chromium and Zinc. The honey in Fresh Raw Honeycomb is composed of two main sugars, fructose and dextrose. These natural sugars are easily absorbed into the human body.
There are minerals and vitamins in small quantities which give the honeycomb its colour, flavour and physical properties. Australia is a great producer of honeycomb due to its climate and vegetation. The two essential ingredients from which nectar is produced are warmth and blossoms.
Suggested serving: Cut a small piece approximately 20 grams of Honeycomb and chew it until only the bees wax remains. This may be swallowed or discarded.
Try placing a piece on your next savoury meat and cheese platter. (Delightful with Prosciutto (Italian dry-cured ham) and Camembert (Cheese) on a cracker biscuit). Honeycomb is also a delicious nutrient rich snack and a great addition to your favourite recipes, teas and smoothies.
Each pack contains a cut piece of Fresh Raw Honeycomb a highly concentrated source of many essential nutrients, including large amounts of carbohydrates (sugars). Honeycomb also has some minerals such as calcium, iron, zinc, magnesium, B-complex vitamins and vitamins C, D and E. Fresh Raw Honeycomb is beneficial to overall health and well-being.
Fresh Raw Honeycomb is harvested from specially selected areas bordering Australia's vast mountain ranges. These regions have a heavier dewfall producing a superior class of crisp, clear flavoursome honeycomb.
Honeycomb is a healthy natural alternative to processed sugars and artificial sweeteners.
This product is not suitable for infants under 12 months of age.
Benefits
All the goodness of fresh cut honeycomb from this mono-floral Australian species
Serving Suggestion
20g or as desired. Cut a small piece of honeycomb and chew until bees wax remains. Swallow or discard wax.
Ingredients
100% pure Australian freshly cut Honeycomb.
Warning
Not suitable for infants under 12 months of age.
Nutritional Information
| | |
| --- | --- |
| Serving size: 20 g | Average Quantity per serving |
| Energy | 290 kj (69.37 kcal) |
| Fat - Total | 0.16 g |
| - Saturated | <0.1 g |
| - Trans | <0.1 g |
| Carbohydrates |   |
| - Total | 16.7 g |
| - Sugars | 15.8 g |
| Protein | <0.1 g |
| Sodium | 1.52 mg |
Disclaimer

Always read the label and follow the directions for use. Use only as directed.

Images may differ in appearance from the actual product.

All orders are subject to availability. Whilst we endeavour to keep our stock levels accurate, some products may not be immediately available. If an item is purchased that is not available in a reasonable time frame, we will contact you to inform you of excess delays or to discuss alternative product options. 
Share
View full details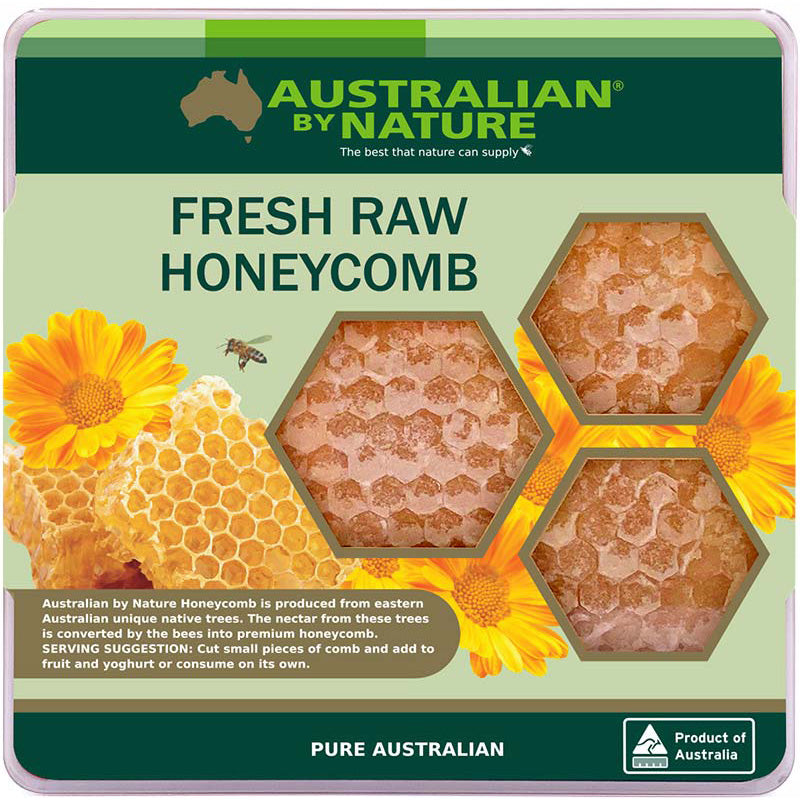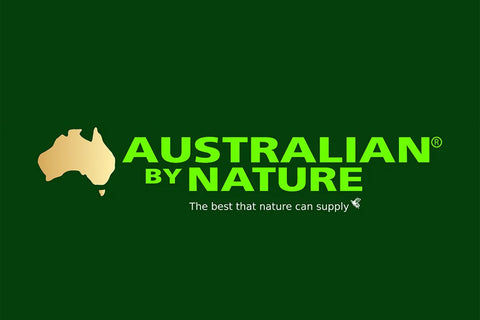 Australian By Nature
We all want to live a healthier lifestyle, and when you don't have time to make extra healthy meals, you can incorporate Australian Nature products into your diet for better nutrition. Over the years, there has been an increase in natural products across the country, with many people choosing to fuel their bodies naturally. Australian honey has become a popular product among those seeking to replace refined sugar with an organic product that's better for your body and overall health. Sugar tends to cause belly fat, whereas with honey being a natural resource, you're less likely to put weight on around your middle.
At Australian by Nature, we believe in utilising nature's produce to encourage people to take their health into their hands to live a healthier lifestyle.
Shop more from Australian By Nature