Sale price
$2750
Regular price
$23.95
Unit price
per
Sale Save $-3.55
Sold out
Brauer's Chesty Cough contains ingredients traditionally used in Homeopathic medicine to relieve mild bronchial coughs and reduce bronchial mucous congestion.
Mild tasting liquid
Contains ingredients traditionally used in Homeopathic medicine to reduce excess chest phlegm and relieve nasal congestion
These ingredients are also traditionally used to relieve symptoms of the common cold and relieve mild bronchial irritation in Homeopathic medicine
How to use this product
Adults: Take 5mL every half hour for 4 doses and then 5mL every 4 hours until symptoms are relieved up to a maximum of 35mL (7x5mL doses) per day.
Nutritional Information
| | |
| --- | --- |
| Each 1mL contains equal parts of: |   |
| Anemone pulsatilla | 3X |
| Antimony potassium tartrate trihydrate (Ant tart) | 5C |
| Calcium sulfide (Hepar Sulfuris) | 5C |
| Carapichea ipecacuanha | 6C |
| Phosphorus | 6C |
| Polygala senega | 2C |
| Potassium dichromate (Kali bich) | 3C |
| Tin (Stannum metallicum) | 5C |
Disclaimer

Always read the label and follow the directions for use. Use only as directed.

Images may differ in appearance from the actual product.

All orders are subject to availability. Whilst we endeavour to keep our stock levels accurate, some products may not be immediately available. If an item is purchased that is not available in a reasonable time frame, we will contact you to inform you of excess delays or to discuss alternative product options. 
Share
View full details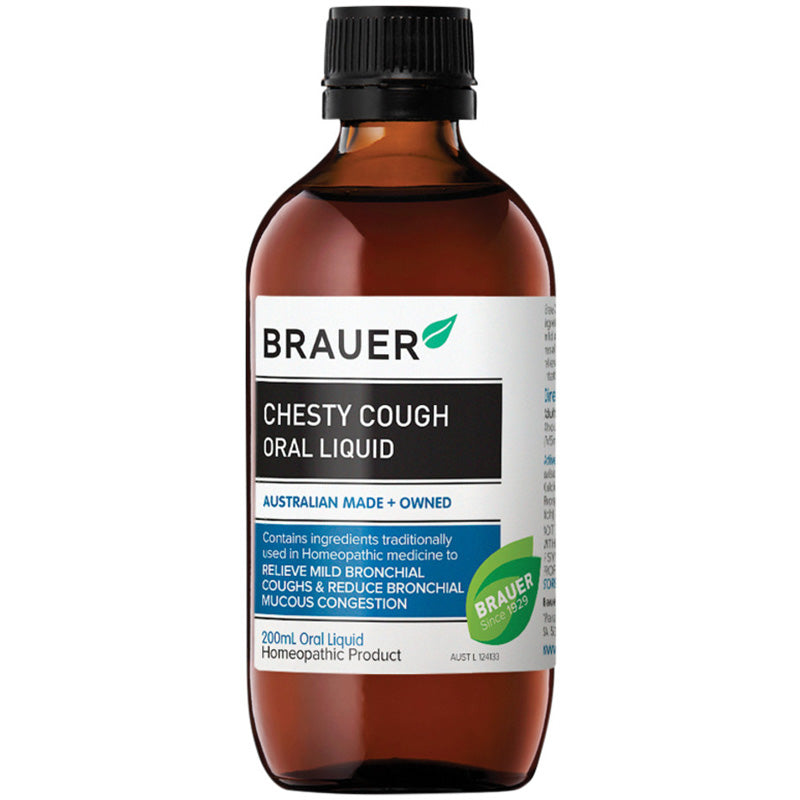 Brauer
Brauer has been trusted by Australians for over 90 years. We are committed to supporting you and your family in your health journey with our comprehensive range of high quality vitamins, nutritional supplements and innovative complementary medicines. We select the most bioavailable forms of ingredients from around the world. We adhere to strict Australian quality standards at our TGA-licensed manufacturing facility. Our team of experts continuously look for new ways to meet the changing health needs of Australian families.
Shop more from Brauer